Hardy Fruit Trees and Shrubs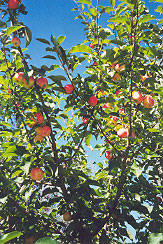 September Ruby Apple
Plant an orchard in your backyard and savour the mouth-watering fruits of your labour. All of our fruit trees are propagated on hardy rootstock for Manitoba winter survival.
Kackenhoff's also carries a wide selection of dwarf apple tree varieties. These apple trees will be about 50% smaller in size than a standard apple tree BUT THE FRUIT IS REGULAR SIZED! There are great advantages to growing a Dwarf Apple Tree: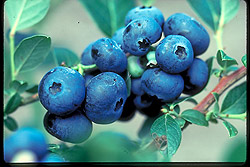 Northblue Blueberry
Dwarf Apple Trees bear fruit at a younger age – significant fruit production can be achieved two years earlier than with apple trees grown on a standard rootstock
Dwarf Apple Trees take up less space in your yard resulting in more yard for you to enjoy and less effort to harvest your crop.
Dwarf Apple Trees are hardier because vigorous vegetative growth is reduced due to early fruiting.
Kackenhoff's carries the following Dwarf Apple Tree varieties:
Norland
Battleford
Norkent
Red Sparkle
Goodland
Fall Red
Prairie Sun
September Ruby
Rescue
Dexter Jackson